How often do you want to compromise?
We are forced into compromise on the very air we breathe, which touches every single moment of our life. It is the need for our survival. Unfortunately, it also threatens our very survival.

 
What we don't realize is there is an insidious killer in the room – the air itself. Children are growing up inhaling smoke, gases, dust, bacteria and odour, the effects of which are frightening in the long run. Grownups are exposed to the maximum degree of air contamination during their daily commute. And research shows that the elderly – in their delicate state of health – are vulnerable to particulate matter (PM) more than any other pollutant.
It was this grim scenario that made us at IFB ask some questions? Can we somehow provide a breath of healthy air? Can we kill the silent killer in the room? Can we help you Uncompromise?
Thus began our journey.
The startling state of air
Research suggests that a child growing up in South Asia, the most polluted region in the world, and exposed to current levels of contamination, will have his life cut short by almost 2 years, 6 months. Studies conducted by Greenpeace and AirVisual, published in 2019, showed the worsening state of air in India. Seven of the world's 10 most polluted cities were in our country. Of the 30 cities in the world with the worst air quality, 22 were Indian. Delhi was ranked the most polluted capital again.

 
More and more children in cities are being diagnosed with asthma as early as the age of 3 years. Elderly people suffer from respiratory and lung diseases. Air pollution is also the third biggest cause of deaths in India.
Deadly particulate matter
| | |
| --- | --- |
| | Millions in India are inhaling lethal air, which is 10 times or more over the safe limit prescribed by WHO for PM 2.5, microscopic airborne particles that are around a 40th of the width of human hair. |
These photos offer a glimpse of how dangerous particulate matter can be in our bloodstream, given its size. Our red blood cells – oxygen carriers in our body – are around 8 micrometres (μm) in size; a micrometre is one thousandth of a millimetre. PM 2.5 particles are 2.5 micrometers in diameter, and around three of these particles can collect in a single red blood cell.
The PM 0.3 is even smaller, 0.3 micrometres, and is considered the "most penetrating particle size" – it can even pass through a mask filter. These particles are absorbed into the blood stream and can enter lungs, heart and brain, raising the risk of respiratory diseases, lung cancer and heart problems.

 
Uncompromise on Air Quality
These findings, along with trends that pollution levels are unlikely to reduce drastically in the future, made IFB innovate and design an air conditioner that could also "treat air" apart from just cooling it. PM 0.3 was set as the benchmark. If we could somehow filter out this deadly particle, it could lead to better, healthier living.
The result: IFB FastCool – The Zero-Compromise AC, an air conditioner that improves indoor air quality in a multi-dimensional manner with 7-Stage Air Treatment.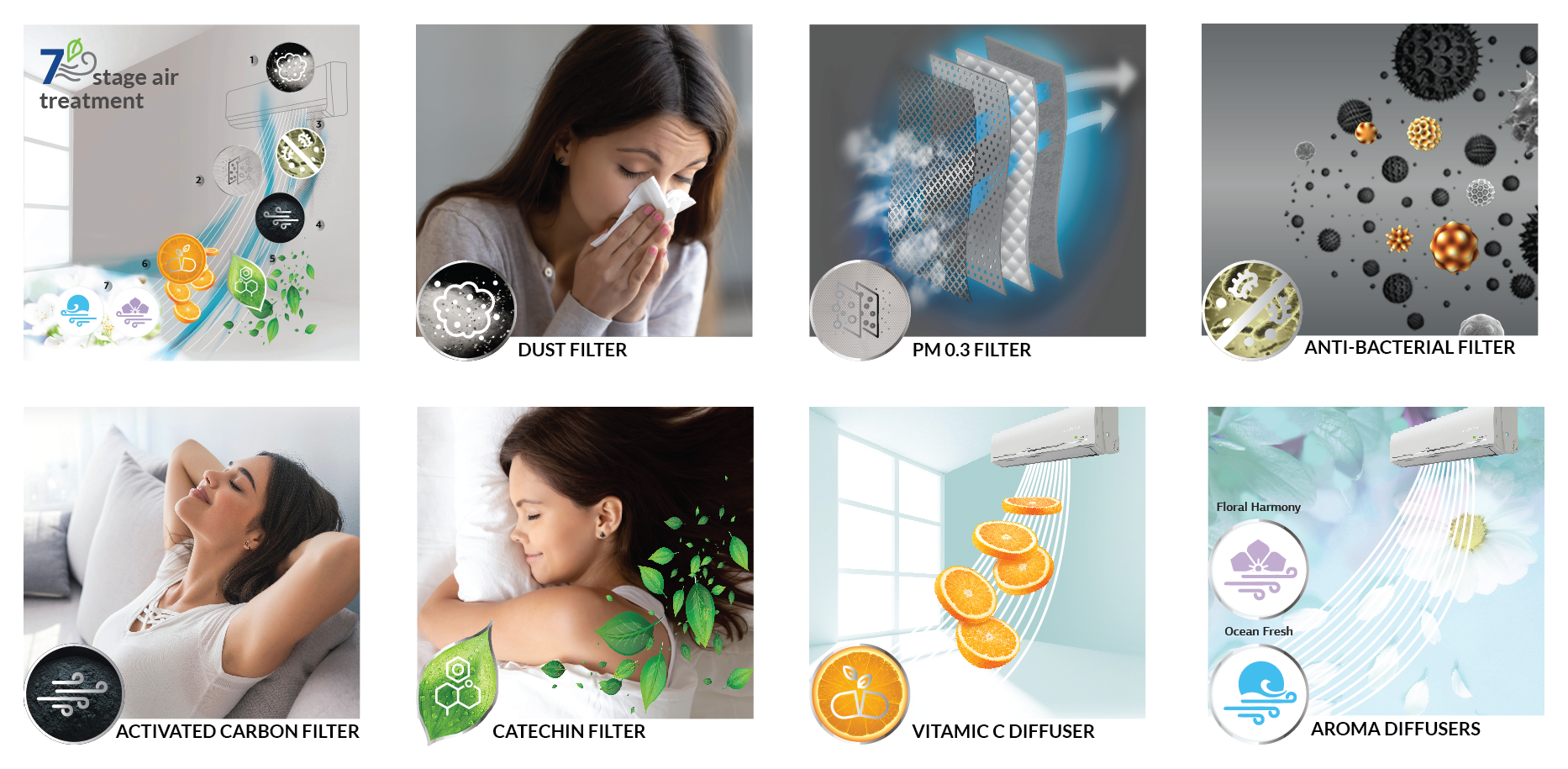 Dust Filter: Traps dust and airborne particles and helps prevent allergies.
PM 0.3 Filter: Filters air pollutants even 0.3 micron in size, which are not visible to the eye and, if inhaled, can harm our respiratory system.
Anti-bacterial Filter: Gets rid of bacteria and allergens present in the air.
Activated Carbon Filter: Absorbs smoke, chemical fumes, gases and dust particles.
Catechin Filter: Keeps air free of unpleasant odours.
Vitamin C Diffuser: Adds natural antioxidants into the air, improving its quality.
Aroma Diffuser: Infuses a pleasant aroma in the air, with two fragrances to choose from: Floral Harmony and Ocean Fresh.
Also read: IFB unveils FastCool – The Zero-Compromise AC: Its Features and Benefits
The 7-Stage Air Treatment in the IFB FastCool AC reflects the company's philosophy of "Uncompromise" on the most basic and critical thing in life: air. While we can't control the outside environment, we can definitely make our time indoors – which is 85% of our whole life – better.
We haven't compromised.
Neither should you.