It's a Tuesday evening and your washing machine has suddenly given up half-way through a wash cycle.
Typically, only two solutions are available—begin an infinite loop of reaching out to your dealer and customer care team or find an emergency dhobi.
Neither of these alternatives are promising. You are most likely to find yourself spending an hour or more being pinballed between dealers and customer care teams, each attempting to shrug the responsibility onto each other and then you're in the bathroom washing clothes because no dhobi comes over at the last minute.
And while you're elbow deep in dirty clothes and soap suds, the potential cost of last-minute service and spares hits you like a ton of bricks. New parts for outdated models, technicians' fees and time lost usually rip a large hole in your hard-earned savings. With the IFB Advantage, you'll face none of these issues.
THE LOST CONVERSATION
When shopping for new appliances, the last—and often unbroached—topic of discussion is service and technical assistance. Most companies focus on the products alone, leaving customers at the mercy of dealers and independent repair shops to get their appliances up and running again.
It is confusing, complicated and exhausting for consumers to hunt for warranties that serve them best.
When purchasing a new home appliance, the importance of quality warranties, cost of service and spares is rarely on a consumer's mind. And this is what the team at IFB has diligently worked to resolve.
---
Zero Compromise on Customer Service
On that fateful Tuesday evening, the IFB Advantage special TriShield Protection plan would have come to the rescue. This swift and simple solution enables consumers to purchase appliances with zero worry about service and costs for the next decade!
You are the focus
The IFB Advantage has been crafted with you in mind. The team has placed itself in your shoes to solve issues customers are likely to face over the years. Besides designing high quality appliances that last longer without trouble, IFB has bumped up its customer service by offering India's best warranty programme.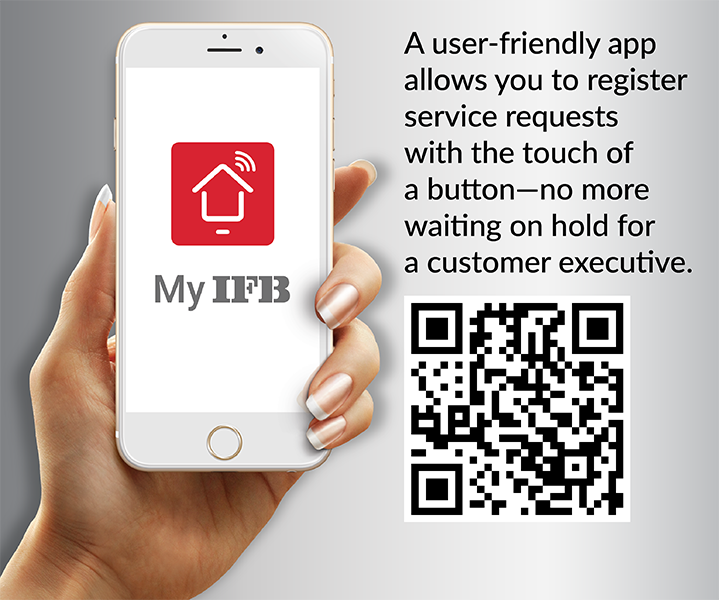 TriShield Protection
Over more than three decades, IFB has observed and evolved its warranty service and offerings. Our latest and best yet, is the TriShield Protection package that covers your appliance for up to 10 years so you can enjoy its convenience without worry.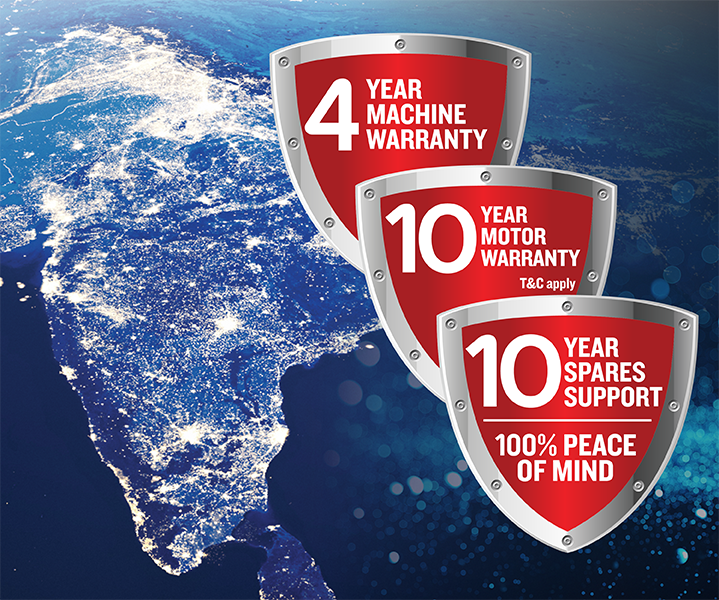 Triple Protection Plan
IFB's TriShield Protection buffers you from three vital angles that most often carve a dent in your savings. It is the only brand offering four years of machine warranty, along with 10 years on the motor and a written commitment of 10 years on spares support, with the option to add on two more years of complete peace of mind with four free services.
Machine Warranty
There's no certainty on which part of a machine will go bust. With proper use and regular maintenance, IFB home appliances boast high quality performance for years. In the unfortunate circumstance that something does give trouble, the IFB Advantage machine warranty covers critical components along with service charges for four years.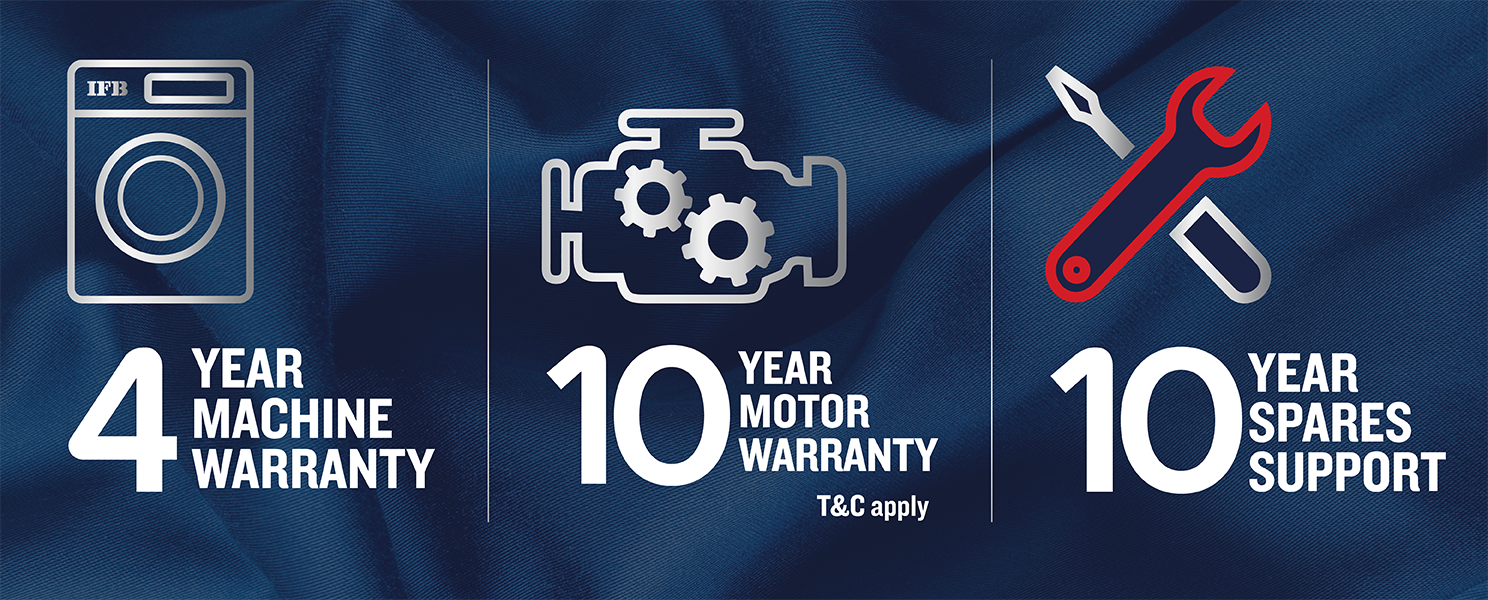 Motor Warranty
The motor is the nucleus of any machine. The smallest issue could cause it to stop working, or trigger more damage that's expensive to repair if left unchecked. Thanks to the IFB Advantage TriShield Protection plan, you can run your machine for a decade without concerning yourself with even the most minute snags from the motor.
Spares Support
Our machines are built to last. While IFB constantly pursues innovation, we continue to offer technical assistance to those who have invested in our technology. Thanks to the IFB Advantage, you are ensured 10 years of support on spares for every IFB product you buy.
---
Zero Compromise on Quality
The IFB Advantage is a lot more than India's best warranty programme. For a top load washing machine featuring the latest 99.99% germ-free wash technology, the IFB Advantage brings benefits of up to ` 7300 that covers its unique convenience and safety features as well as superior wash capabilities. Across its washing machine models, the IFB Advantage includes a unique Aqua Energie technology, an in-built heater, specialised in-built wheels and a liquid detergent tray.
Aqua Energie
The company's patented Aqua Energie innovation boosts the power of your detergent. This device energises water with a built-in device and uses a remarkable filter treatment to better dissolve detergent so your clothes get a softer wash.
Using a specialist magnetic device, Aqua Energie softens hard water by its dissolving calcium crystals, which helps avoid scale formation.
This incredible technology helps save detergent, leaves fewer traces of detergent on clothes, avoids discolouration, promotes a softer and more hygienic wash and renders the heater coil and tub scale-free.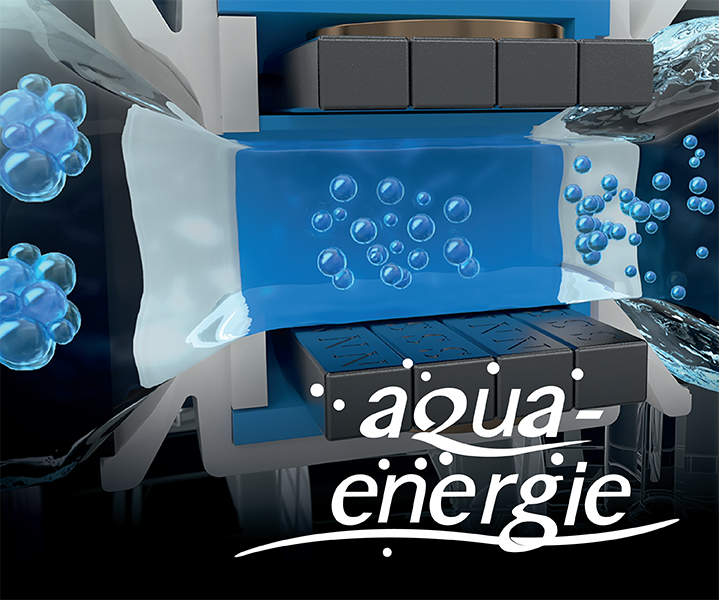 In-built wheels
If you've changed your mind about the location of your washing machine, or even if you're moving houses, IFB's ergonomic design enables you to do so with ease. Two wheels located at the back of your washing machine offer smooth and quick mobility so you can up and leave as you please.
In-built heater
With IFB's powerful in-built heater, you are promised a hot wash that rids your clothes of up to 99.99% germs. The option to choose from wash temperatures of 40˚C or 60˚C offers you better control over your laundry needs.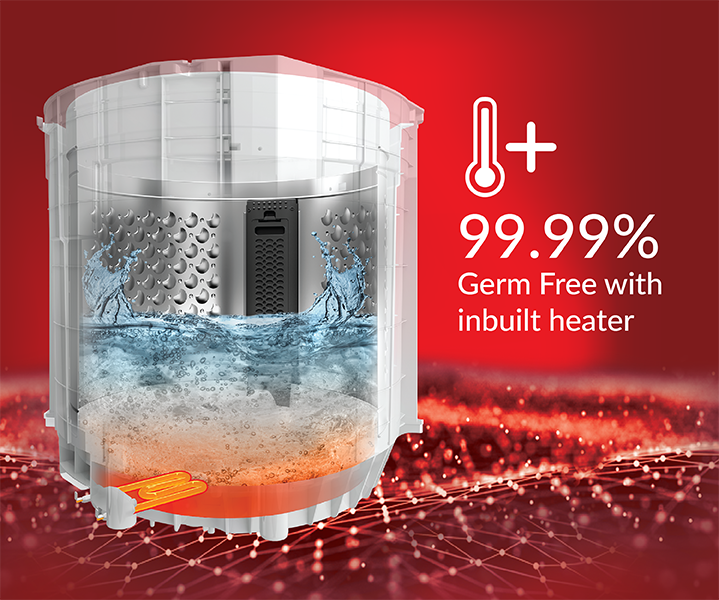 Detergent tray
Using liquid detergent reduces the amount of soap used to clean your clothes.
At IFB, we go a step further with a carefully designed liquid detergent tray that avoids waste from spillage.
IFB gives you zero compromise, chore-free living, so you can enjoy the time to follow your passions and do what you love.