This Diwali is different.
Never in recent memory have we faced a festive scenario that is scary to say the least. The COVID-19 pandemic has subdued the festive fever for most of us even as concerns for safety remain. Health has taken utmost priority. Keeping our families secure is of paramount importance.
It is in the context of the current COVID-19 pandemic that we bring to you Diwali shopping ideas that are dedicated to and celebrate nothing but health. So 'Stay Home, Shop Safe' and give your family the gift of health this Diwali.
Here are a few IFB home appliances that you can explore this Diwali:
IFB Senator Smart Touch SX 8.5 Kg Front Load Washing Machine – Steam Wash
Clothes are in touch with your skin 24/7, so if what you're wearing isn't hygienic, there is a chance you may not be healthy. The IFB Senator Smart Touch SX 8.5 Kg Front Load Washing Machine is loaded with features that keep your clothes hygienically clean and 99.99% germ-free. Steam Wash is available in 14 programs, offering the highest germ protection.
The Sanitize program uses a temperature of 95˚C for heavily soiled items such as bed sheets, washable masks and cloth diapers. The Hygiene/Anti-Allergen program is particularly useful for homes with kids as it removes allergens. There also are various temperature settings for Hot Wash, which kill germs to render hygienic clothes.
IFB Dishwasher – Safe, Sanitised Utensils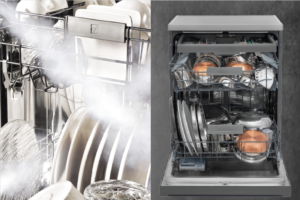 A dishwasher is perhaps the most useful appliance in the current context of COVID-19. If you're looking to take the dishwashing chore off yourself or your partner even as you work from home or office, an IFB Dishwasher is a healthy choice this festive season. Not only does it reduce the possibility of your family getting exposed to the virus if someone is entering your home every day, its wash temperatures of up to 70°C and steam drying ensure that 99.9% germs are killed and your utensils are completely safe and sanitised.
IFB Senator WSS 8 Kg Front Load Washing Machine – Power Steam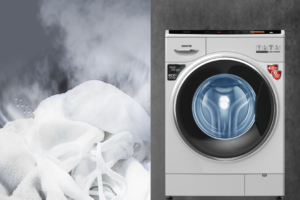 If you wish to ensure your family's hygiene and 99.99% germ-free laundry, this Diwali give them the safety of Power Steam with the all-new Senator WSS 8 Kg Front Load Washing Machine. The Power Steam is a 30-min program with dual steam cycle that kills germs, at the same time maintaining the colour, texture and elasticity of the fabric.
The program is best suited for your sportswear, children and work uniforms as well as gym wear. The Senator WSS also comes with other health-oriented features such as Hot Wash and Hygiene/Anti-Allergen.
IFB 100% Clothes Dryer – Hygienic Drying
Diwali sees the onset of winter, and winter brings with it greater risk of infections. While things are hard to predict regarding the novel Coronavirus and the COVID-19 situation, seasonal viruses are known to thrive in winter. Cold weather also presents the problem of clothes not drying outdoors, plus dust and pollution.
An IFB Clothes Dryer is a great Diwali shopping idea ahead of winter. Not only does it give 100% dry clothes, it helps avoid germs, allergens, mould and odours from drying clothes indoors and prevents outdoor dirt, pollution and germs from settling on clothes.
IFB FastCool AC – Zero Compromise on Air Quality
In a bid to ensure that indoor air is healthier for you to breathe, IFB AC comes equipped with a revolutionary 7-Stage Air Treatment. It comprises Dust Filter, PM 0.3 Filter, Anti-bacterial Filter, Activated Carbon Filter, Catechin Filter, Vitamin C Diffuser and Aroma Diffuser, which combine to improve indoor air quality.
IFB Microwaves – Oil Free Cooking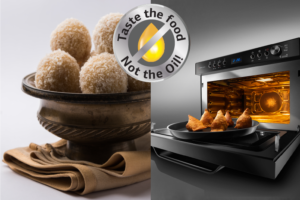 If fitness and building natural resistance through healthy food is what you have in mind, the IFB range of microwaves is equipped just for that. Featuring Oil Free Cooking technology, IFB Convection Microwaves require minimal or no oil while cooking. There are no compromises in either taste or nutrition, and recipes prepared with Oil Free Cooking are good for health and wellbeing. Its hygiene-focused features like Steam Clean, Disinfect and Deodorize further ensure your family's protection.
TL-REWH 6.5 Kg Aqua Top Load Washing Machine – Heater Technology
Having an in-built heater in your top load washing machine is a huge plus in the fight against germs. Using a state-of-the-art heater technology, IFB TL-REWH 6.5 Kg Aqua Top Load Washing Machine gives you wash options at high temperatures of 40°C and 60°C, delivering 99.99% germ-free clothes.
IFB Chimneys – Breath of Fresh Air
Kitchen is the heart of any home, and kitchen hygiene is an essential step towards a healthy home. Efficiently removing smoke, gases, fumes, odour and heat, IFB Chimneys make the air healthier for you to breathe and help in keeping your kitchen clean.
Enjoy Our Festive Offers on IFB Home Appliances: Stay Home, Shop Safe ... and have a Happy and Healthy Diwali!