Given the rise in heart disease, diabetes and other lifestyle diseases in the country it is a good idea to take stock of our eating habits and do away with or cut down on ingredients that are not the best for us. One of these ingredients is oil. The thought of preparing Indian food without oil may be unthinkable but cooking with too much oil leads to health problems that are hard to ignore.
Stash the oil away and whip up these delectable, hassle-free recipes with IFB's oil-free range of cooking equipment.
Recipes:
1. Mushroom Tikka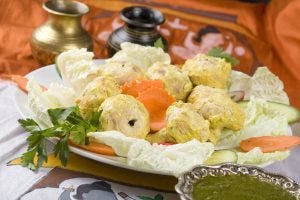 Ingredients:
Mushrooms: 20

For the Marinade

Curd: 2½ tbsp

Chili Powder: 1 tsp

Garam Masala: 1 tsp

Gram Flour: 2 tbsp
Method:
Wash the mushrooms and pat them dry. Cut them lengthwise into two halves.

In a large bowl, mix all the ingredients of the marinade.

Coat the mushrooms with the marinade and set aside for half an hour.

Take the IFB microwave grill and brush it with oil to prevent sticking. String mushrooms on kebab sticks and place on the microwave grill.

Put it in the IFB microwave oven for 10 minutes and allow it to grill. Remove it, baste it with butter and put it back in for 15 minutes more.

Stick toothpicks in the mushrooms and serve hot with coriander chutney.
With the combination microwave ovens from IFB, dishing out oil-free tikkas is a breeze. These microwaves come equipped with a power grill and microwave that give you the flexibility to cook and brown food as per your taste.
2. Spicy Barbecue Chicken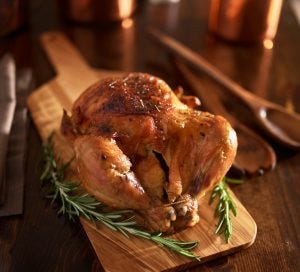 Ingredients:
Chicken: 1 whole

For the Barbecue Sauce

Ketchup 1 cup

Honey ¼ cup

Vinegar ¼ cup

Soy sauce: 1 tbsp

Red chili sauce: 1 tbsp

For the Barbecue Rub

Black pepper: 1 tsp

Chili powder: 2 tsp

Garlic powder: ½ tsp

Onion powder: ½ tsp

Salt to taste
Method:
Wash the chicken well and set aside.

In a large bowl mix the ingredients for the barbecue sauce until well incorporated.

In another bowl, mix the ingredients of the barbecue rub and sprinkle it on the outside and the cavity of the chicken.

Truss the chicken with a cooking twine and skewer on the rotisserie spit.

Pre-heat the IFB oven to 200° C.

Cook for 10 minutes at 200° C.

Coat the chicken with the barbecue sauce and let it spin for another 30 minutes in the oven.

Serve hot.
Get ready for some serious barbecuing and succulent flavors with rotisserie microwaves from IFB. These microwaves are your best bet if crispy meat are your go-to party dishes. These ovens lock in the nutrients and dole out deliciously tender dishes. What's more, these microwaves take care of the mess and the grease in appliance with a steam clean feature that leaves your microwave oven fresh and sparkling clean. The deodorizer further ensures you have a germ-free, pleasant smelling microwave.
3. Baked French fries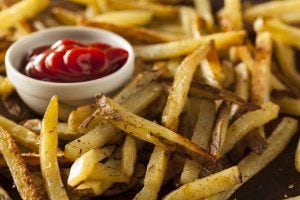 Ingredients:
Potatoes: 6

Chilli Powder: 1tsp

Black Pepper: 1 tsp

Garlic powder: 1 tsp

Onion powder: 1 tsp

Salt to taste
Method:
Wash and peel the potatoes

Slice each potato to 1/4" 1/2" thickness and cut strips.

Spread the strips on a baking sheet.

Preheat the IFB microwave oven to 425°C and bake the fries for 15 minutes.

Toss the fries in the spices and your crispy, fat-free French fries are ready to serve.
If you are a baking enthusiast, and like to add your own healthy spin to oily dishes, the IFB convection microwave is the perfect company. Equipped with heater selector options and a whole range of standard menus, putting out delicious baked versions of traditionally deep fried dishes doesn't get any simpler than this. Thoroughly and evenly cooked food, now in a jiffy.