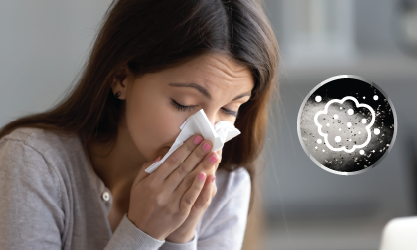 DUST FILTER
breath clean air
Prevents allergies by capturing dust and other airborne particles.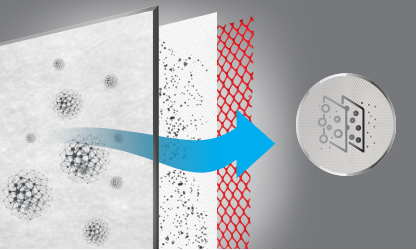 PM 0.3 FILTER
breath pure air
Removes air pollutant as small 0.3 micron.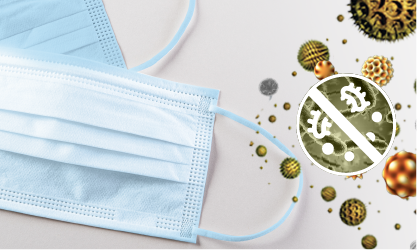 ANTI-BACTERIAL FILTER
filters germs & bacteria
Removes bacteria and allergens from the air.
ACTIVATED CARBON
breathe odour free air
Absorbs smoke, gases, chemicals and other dust particles.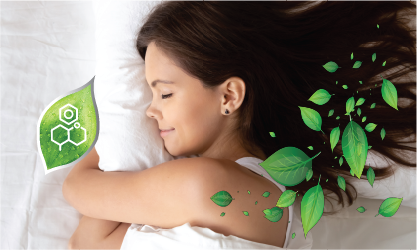 CATECHIN FILTER
breathe crisp air
Removes unpleasant smell to keep the air odour free.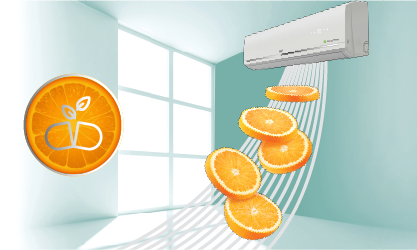 VITAMIN C DIFFUSER
breathe fresh air
Adds natural antioxidants to improve air quality.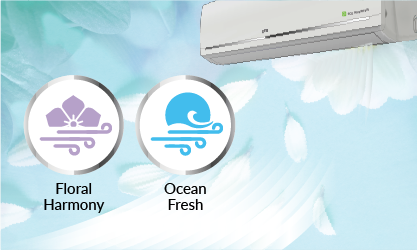 AROMA DIFFUSERS
fresh, fragrant air
Choose from Floral Harmony or Ocean Fresh fragrances to infuse a pleasant aroma in the air.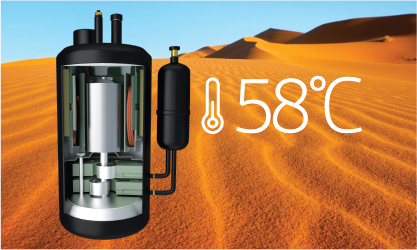 SUPERIOR COOLING POWER WITH TWIN INVERTER HD COMPRESSOR, COOLS EVEN AT 58°C AMBIENT TEMPERATURE
cools even at 58˚C
The powerful Heavy Duty (HD) compressor works at peak efficiency even in heat wave conditions.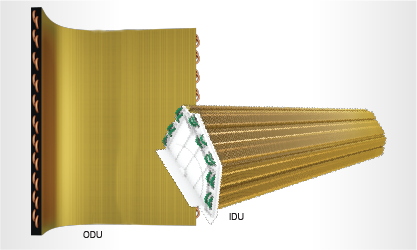 DUAL GOLDFIN HEAT EXCHANGERS
improve cooling efficiency
The fins on both the indoor and outdoor units are coated to improve heat exchange for better cooling.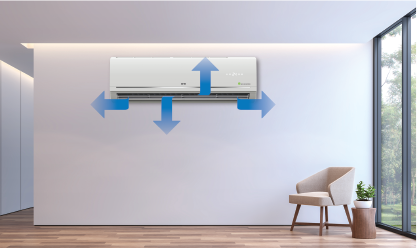 4 WAY AUTO COOLING
quick uniform cooling
Motorised vanes automatically swing in all four directions, horizontally and vertically to deliver air evenly across the room.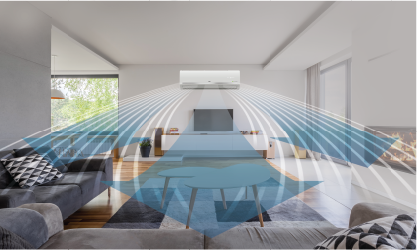 LONG AIR THROW
even and fast cooling
Cools even a large room effortlessly with an Aerodynamic 360° Blower and Powerful Fan Motor.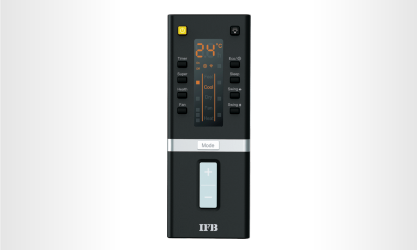 ERGONOMIC REMOTE
indoor climate control in your hands
The minimally designed, best-in-class, matt finish, black remote control is elegant and easy to use.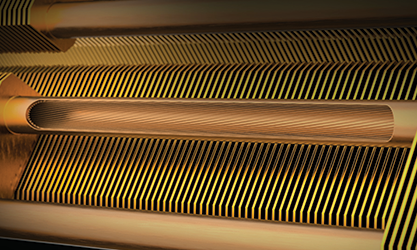 100% COPPER PIPING WITH INNER GROOVED TUBES
20–30% quicker cooling
100% copper interconnecting pipes and tubes for condensers, evaporators conduct heat better to cool faster and increase machine longevity.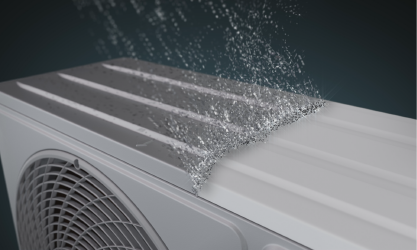 AUTOMOTIVE GRADE WEATHER PROOF COATING FOR ODU
protection for longevity
A unique high temperature silver powder coating protects the ODU from weather and pollution stresses such as rain, dust, ultraviolet sunlight and pollutants.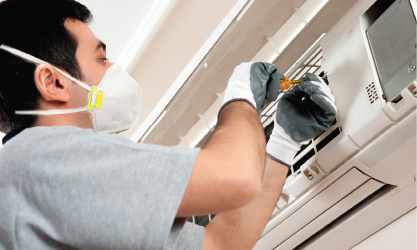 FREE STANDARD INSTALLATION
all year round
Expert installation by specially trained technicians and FREE copper connecting kit, not just seasonally but all 365 days of the year. 3 FREE services ensure smooth cooling.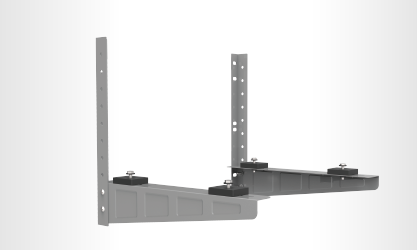 UNIQUE ODU STAND WITH STAINLESS STEEL BOLTS
built to last
Specially designed IFB ODU Stands ensure resistance against corrosion.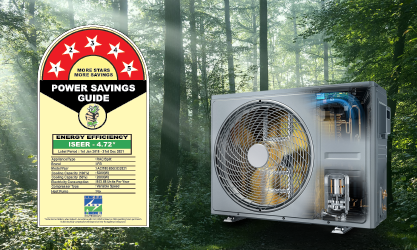 ENERGY SAVINGS
it's cool to save
All IFB Air Conditioners are ISEER compliant, guaranteeing higher machine performance at lower energy consumption.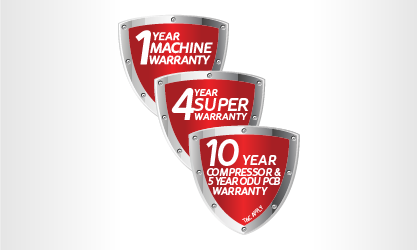 WARRANTY
We offer a super warranty
IFB machines are built to last with a comprehensive warranty and spare part support.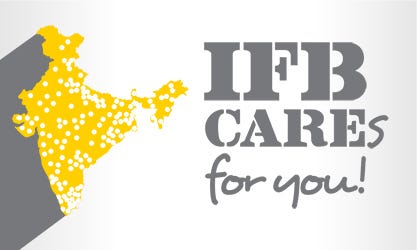 IFB CARE
24x7 service support
Across 2,500+ cities nationwide, supported by our helpline. Just call 1860-208-5678 or 1860-425-5678.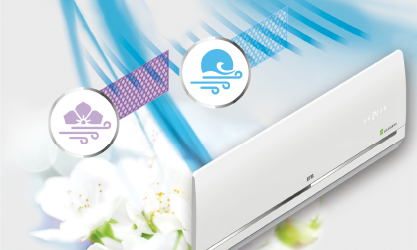 IFB ESSENTIALS
air care
Special Vitamin C and aroma diffusers for IFB FastCool Air Conditioners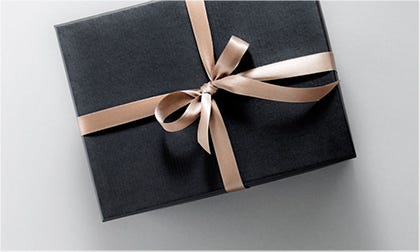 EXCHANGE PROGRAM
Round the year
Offers great value, making it easy to upgrade while also ensuring eco-friendly disposal of electronic components.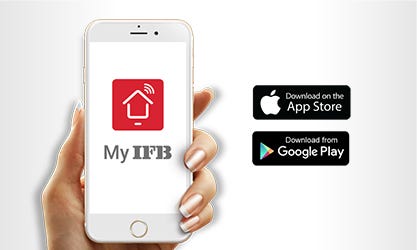 MY IFB App
updates, recipes, offers and the latest launches
Download the My IFB App and get connected—shop, cook, register your appliance, book a service.
IFB Appliances All rights reserved © 2023